Do you have questions about therapy? It is natural to feel some anxiety when starting out.
Here are some frequently asked questions many have when starting therapy:
Q: How much does therapy in Denver cost
During COVID-19 I am offering an adjusted fee. Please call 729-295-4233 to discuss a fee.
Q: Do you offer virtual therapy sessions during COVID-19?
I offer therapy over secure HIPPA compliant video. I also provide face to face sessions. Please call to discuss which option works best for you and I will be able to answer anymore questions about therapy sessions with me. 
Q: Is therapy confidential?
In general, YES. The law protects the confidentiality of all communications between a client and a psychotherapist. No information is disclosed without prior written permission from the client. However, there are some exceptions required by law to this rule. Exceptions include:
– Suspected child abuse or dependent adult or elder abuse. The therapist is required to report this to the appropriate authorities immediately.
-If a client is threatening serious bodily harm to another person. The therapist is required to notify the police.
-If a client intends to harm himself or herself. The therapist will make every effort to work with the individual to ensure his or her safety.
Should this happen, I will be honest with you and include you in the process.
Q: How long are therapy sessions usually?
Sessions are typically 45-60 minutes long.
Q: Does insurance cover therapy?
We do have a therapist that accepts insurance. Tad Lusk is our Medicaid provider with Denver Men's Therapy -you can book Medicaid appointments with Tad by following the Book tab and finding his name under the drop-down menu. All of our other therapists do not take insurance. If you have insurance we can provide you with the needed documentation and billing so that you may be reimbursed by your insurance carrier. We currently accept cash, check, most major credit cards and Bitcoin via coinbase. Please call to discuss the treatment fee as well a possible adjusted fee.
There are a few things to consider when thinking about using medical insurance for psychotherapy:
If you use insurance, your therapist must give you a diagnosis

. This is probably a lesser known fact and it's one I didn't know until I began my profession. Insurance companies require a diagnosis so they can decide if they will pay for therapy or not. This means your therapist

must

give you a diagnosis that your insurance will cover even if you don't really need a diagnosis. And these diagnoses follow you. In many cases, mental health diagnoses do not have a statute of limitations meaning they will follow you forever as "pre-existing illnesses." As a client, it is rare that you ever even know your diagnosis, so I would consider this to be one of the most motivating reasons to pay out-of-pocket because when you do, your therapist is not required to give you a diagnosis.

Health insurance companies choose your therapist for you.

Have you realized that you can only see therapists who have a contract with your insurance company? This isn't always a huge problem especially if your plan is with a major insurance company with a vast network of therapists. However, I've had clients who have changed insurance mid-therapy to a company with whom I was not contracted. The client had the choice to pay out of pocket or find a new therapist who was in their network. Not the biggest problem in the world, but it is a limitation that I believe many overlook.

Your time and treatment is controlled by an insurance company.

Again, it is probably an overlooked and unknown fact that insurance companies determine the time intervals that they will pay for and the therapy models they will accept. In most cases, this isn't a major issue if you're a therapist and client who can wrap it up in twelve, 50-minute sessions. But what if you need a longer treatment period? If your insurance hasn't given authorization for more sessions, then your therapist will not be paid for the additional time. And what if you want a therapy that is alternative, new, or off the beaten path? It's unlikely that your insurance will cover that treatment. You and your therapist are bound by the insurance company's beliefs about what is an appropriate length of time to resolve issues and what therapies are best for you.
For some people, it makes sense to use health insurance, but if you can afford to pay out-of-pocket it's worth considering how much you value your privacy and control over your own treatment decisions. Many therapists have reasonable session fees and will even negotiate for more affordable rates. If you prefer to keep your health information private and in your own control, then talk to your therapists about rate options."
Info provided by NICOLE SAUNDERS, LCSW at www.therapycharlotte.com
Q: How do I find a good therapist in Denver?
Finding a good therapist can be difficult. There are some important factors to consider when looking for high-quality therapy services in Denver. The relationship between you and your therapist is one of the most important factors to productive and successful psychotherapy. Therefore, you should feel comfortable when talking to potential therapists. Another important factor to consider is whether or not the therapist is licensed to practice therapy independently by the state board of Colorado (DORA) or if they are unlicensed. This may sound confusing, however, to give you an idea; I am a Licensed Clinical Social Worker. Not only did I complete my Master's degree, but I also completed the necessary supervision hours and passed licensing exams that meet the requirements of the State of Colorado to practice psychotherapy independently. An unlicensed therapist has not met these requirements. If you choose not to work with me, I can refer you to another qualified therapist in Denver. Do you have more questions about therapy? Please reach out to me so we can discuss. 
Q: How long does therapy take to work?
One question about therapy I get asked a lot is: how long does therapy take to work for depression or anxiety, or whatever struggles you are dealing with. Each one of us are unique individuals, therefore this is a difficult question to answer. Some factors include the complexity of what your goals are, how long you have tried to cope with an issue, as well as what you want to accomplish in therapy.
Q: How can therapy help me?
Psychotherapy offers a number of benefits. Psychotherapy works and proven science and research back it up. Therapists provide support, problem-solving skills, and enhance coping strategies for depression, anxiety, relationship troubles, unresolved childhood issues and grief/loss issues. Many people also find that counselors can be of tremendous help and support in helping you to manage personal growth, interpersonal relationships, family concerns, marriage issues and the hassles of daily life. Therapists can provide a fresh perspective on a difficult problem and point you in the direction of a solution. The benefits you gain from therapy depend on how well you use the process and put into practice what you learn.
Have more questions about therapy? Please reach out so I can help you find answers.
Stephen Rodgers Counseling specializes in therapy for young and adult men and EDMR therapy in Denver, Colorado. Our office is conveniently located in Cherry Creek.
Click below to schedule a session or give us a call at 720-295-4233.
Stephen Rodgers Counseling is expanding! If you can not find an open appointment with Stephen, check out our services at Denver Men's Therapy. We know finding the right therapist can be hard.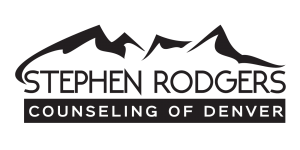 720-295-4233 | 720 S Colorado Blvd #610s Denver, CO 80246