Public Speaker, Men's Mental Health Advocate
Stephen Rodgers, LCSW – Denver Therapist for Men
It is important to feel comfortable with your therapist, so here is a little bit about me and my credentials so you can determine for yourself if I am the right therapist for you.
The most important things to me (in order) are my family and friends, the clinical work I do and my practice, and being outside in beautiful Colorado skiing, mountain biking, and fly fishing. I want to find a balance with each area. I have first-hand knowledge of the issues that can come with being a man in this world, so I know the struggles many men are going through with relationships, family and their internal battles.
I am proud to say that I am a second generation psychotherapist. Growing up in a home with a parent as a therapist showed me how fulfilling this challenging work can be. As a child, I was focused on baseball and skiing, but as I became a young adult, I felt the calling to do my part to heal the world and improve the lives of others. This calling led me first to pursue a degree in Elementary Education. After I graduated college I worked in a group home for children in Jackson, Wyoming where I was exposed to social work first hand. This motivated me to pursue my masters in Social Work where I quickly realized that psychotherapy was my calling. I completed my masters as a Licensed Clinical Social Worker because I was drawn to how powerful psychotherapy can be in improving the lives of others. In my introductory internship, I saw first-hand how the therapeutic relationship can transform suffering into a healthy, productive life. I have now been a therapist in Denver for men specifically for 14 years.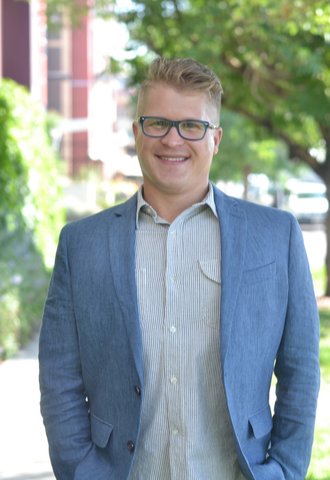 One of the most rewarding aspects of being a therapist is witnessing my clients change their lives for the better.
I have seen clients make changes by giving their lives a narrative and making sense of what has happened and seeing the future as having endless possibilities. I have also seen my clients take the tools and skills that they learn in therapy to better cope with the ups and downs of life.
One therapy practice that I am particularly passionate about is EMDR therapy. My clients have effectively and efficiently resolved past trauma through EMDR, which has enabled them to go to live happier and more fulfilled lives. EMDR is also a powerful therapy that can reduce anxiety and depression, treat erectile dysfunction and improve athletic performance. I am a certified EMDR therapist, which means I have completed advanced EMDR training, and I am the only therapist in Denver that specializes in EMDR therapy for men. In addition, I am an EMDRIA Approved Consultant where I work with other therapists worldwide on using this therapy.
The feedback we have received about EMDR therapy for men has been very positive and overwhelming. As a result in 2018 I started Denver Men's Therapy in an effort to expand our services.
I believe I interact with my clients the way I would want to be interacted with, not like a typical therapist.
I am a therapist in Denver for men who focuses on helping men resolve what is holding them back, so they can live a healthy life. The modern American man is in a difficult spot these days. He is expected to publicly display a persona of masculinity, often expressed through aggression, power, and control of himself and his surroundings. Signs of vulnerability are perceived as not acceptable, often leaving men trapped to face their problems quietly and alone. Privately, men are often asked by their family and partners to display conflicting characteristics, which includes vulnerability and articulation of emotion in order to engage in intimate and meaningful relationships. The conflict between public and private expectations can be incredibly challenging, particularly in today's society where a man's role is constantly changing. It is confusing and disorienting time to be a man!
I love what I do. The most fascinating aspect of my practice is learning and understanding the unique strengths and challenges my clients have. We all have a story to tell. A big part of therapy is telling your story and making meaning from it. Another fascinating aspect of my practice is the lifelong learning that is part of being a therapist. I always have at least one therapy book I am reading at a time for continued education.
Given the expectations for men in popular culture, it comes as no surprise that there is a stigma related to men's mental health and psychotherapy.
If we as men are to have meaningful relationships with others, it is important that we redefine what it means to be a man. In therapy, we can explore what it means to be a man in today's world. Does power come from aggression and control or does it come from self-knowledge, awareness and connections with others.
In the therapy room, I am an active listener and participant in the therapeutic relationship.I will never shame you, put you down or discourage you in the road to healing. However, I will gently and patiently challenge you. Psychotherapy is about the most important thing in the world: you. Therefore, it is important we get down to the hard work ahead.
Frequently Asked Questions